The Blair County Conservation District by virtue of our creation is a unit of Government.  We are also actively involved in supporting many aspects of our local government offices.  Cooperation increases the success of all our County and Municipal government programs.
The District works closely with local municipalities with respect to their ordinances and our delegation for Erosion and Sediment Pollution Control and Stormwater Management. Erosion Control is a major focus of District activities since the 1970s and the relationship with local governments is key to compliance with everyone's "regulations".  More recently, all or portions of eleven municipalities in Blair County have increased emphasis on Stormwater Management, Education, Monitoring, and Inspection because they are determined by population density to be an urbanized area; therefore falling under the criteria of a Municipal Separate Storm Sewer System or MS4.  Those municipalities are required to permit their owned stormwater facilities and discharges, and the District provides support for their permitted activities.  In fact, the District hosts a Stormwater Coordinator staff position to serve those MS4 municipalities.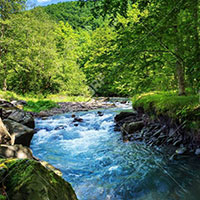 Floodplain Management and Near Stream Activities is another program that Municipalities and the Conservation District share resources.  As of March 2, 2012, new floodplain maps are available for all Blair County Municipalities.  Property owners may use FEMA's website to view, purchase if desired, or make a "FIRMette"  – a page size copy of their location.  Although not delegated from DEP to authorize Chapter 105 stream permits, the District is often the first call for municipalities or their constituents to determine permits needed for stream, pond or wetland activities.

Agricultural Security Areas or ASA's are established and maintained by individual townships and they are the first step for a property owner to make an application for the District administered Agricultural Conservation Easement Purchase Program.
The District also coordinates the Dirt, Gravel, and Low Volume Road program. This program uses Environmentally Sensitive (road) Maintenance techniques to limit erosion and run-off pollution from entering Blair County streams. Funding is made available annually to the District and we in turn accept applications for projects in Blair County. Local People solving Local Issues. To learn more about these techniques and to apply for grant funds visit our Dirt & Gravel Road page.

Finally, the Conservation District hosts an Ombudsman or Agricultural Public Liaison that can assist municipalities with conflict management, education and ordinance review related to ag operations.