Blair County's Conservation Easement Purchase Program was approved in 1991. The Conservation District facilitates the program for the County of Blair.
In 2020 the program preserved one large farm totaling 259 acres and continued to lead the Central PA Region with 56 farms and 8,391 acres preserved! To date, just short of 9 million dollars has been provided to Blair County landowners interested in ensuring that their farmland remains in agricultural use for perpetuity.
Blair County Commissioners again allocated $120,000 for preservation efforts in 2020, second highest in our region. The State transferred 5 million from the Easement Purchase Fund this past spring reducing the State Allocation from 43 million to 38 million, necessitated by the COVID-19 Pandemic. This reduced the funds available to Blair County and that coupled by the large tract ranked as number one only allowed for the purchase of one easement in 2020. The average easement value (the difference between the development value and the farmland value as determined by an appraisal) for Blair County stands at $1,071 per acre. However, the average easement value of current purchases is closer to $1,600 per acre.
The success of the program is a tribute to the commitment of the County Board and the relationship with the County Commissioners. Interest in the program remains strong with at least a dozen landowners applying annually.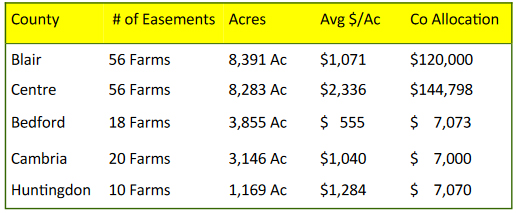 Applications received by October 15th of each year are ranked to be considered for funding in the following year. There is no cost or obligation for landowners to complete an application.. For an application visit the District website or call Rich or Donna at 696-0877 ext. 5.